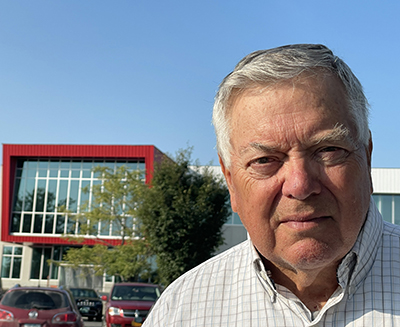 Howard Hill
Lorraine J. Hoffman Graduate Alumni Award
Dr. Howard Hill may have grown up in Southern California. His DVM degree may be from the University of California-Davis.
For the past five decades however, Hill has been an Iowan.
"My roots are more Midwestern now," Hill said. "I have a strong love of the land and livestock here in Iowa."
Hill's Iowa connection began shortly after graduating from vet school. He was practicing at a mixed animal clinic in California but was looking for something else. When he noticed a National Institute of Health Fellowship opportunity, he reached out to two schools.
Iowa State's College of Veterinary Medicine and Dr. R. Allen Packer responded, and the next thing Hill knew he was working on a master's degree in microbiology. He completed that degree in 1973 and his PhD the following year.
Four months before he completed his PhD, Dr. Vaughn Seaton, then director of Iowa State's Veterinary Diagnostic Laboratory, called and offered him a job.
"I thought we would stay for a couple more years before moving back to California," Hill said.
Those two years became decades and a series of jobs in Iowa. His first was at the VDL where, while head of the veterinary microbiology section he taught veterinary and graduate students and served the animal production industries, particularly the swine industry in its national fight to eradicate pseudorabies (PRV).
In 2000, Hill joined Iowa Select Farms where he helped the company eradicate its PRV problem. He also worked on the porcine reproductive respiratory syndrome and put in place mechanisms to prepare the swine industry to respond to future challenges. He retired as the company's chief operating officer in 2013.
Hill's work with the swine industry wasn't confined to just swine production companies. He has served on countless committees to combat, eradicate, and prepare for African Swine Fever and other potential foreign animal diseases. His family raises not only pigs but purebred Angus cattle, while farming 3,000 acres of corn, soybeans and hay.
"My career has revolved around pigs," he said. "Today our family owns swine finishing farms."
"By raising pigs I've become active in many organizations and have traveled extensively representing the nation's pork industry's interests."
From 2010-16, Hill served on the National Pork Producers Council Board of Directors and was president of that organization for a year. He was one of nine veterinarians appointed to serve on the U.S. Department of Agriculture's Advisory Committee of Veterinary Medicine.
And in 1996, he was the president of the American Association of the Swine Veterinarians.
"I enjoyed working on the policy side of the swine industry," Hill said, "and informing people how important it is to support livestock and the veterinary profession."