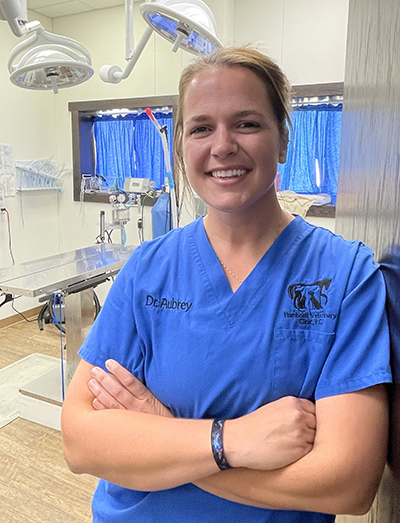 Aubrey Cordray
Outstanding Young Alumni Award
After Dr. Aubrey Cordray graduated from the College of Veterinary Medicine in 2014, she wanted to practice mixed animal medicine in a community in which she could invest.
Yet being a veterinary clinic owner was the furthest thing from her mind.
"It was never my goal to own a clinic," Cordray says, "but you never known what path your career will take."
Regardless of her goals, owning a clinic is right up her alley and anyone who knows Cordray knows that failure isn't an option, even in the small town of Humboldt, Iowa, population 4,773.
"If I'm going to do something, I'm going to do it to the best of my ability," she said.
Cordray has done just that with the Humboldt Veterinary Clinic, a clinic she purchased in 2017 after joining the practice and serving as an associate veterinarian after her graduation. At the time there were just one full-time and one part-time veterinarian on staff.
Today, Humboldt Veterinary Clinic has 23 employees including five clinicians, while expanding from a 3,500-foot-facility to one more than three times that size.
"The facility needed a facelift," Cordray said. "I saw a need for this big of a facility and things are going well. We were busting at the seams for small animals, and we needed a space for producers to bring their animals to us, instead of our clinicians always going out to the farms.
"It wasn't cost and time effective for us or the producers to make calls 90 minutes away from the clinic."
Cordray's vision expanded her small animal clinic from two rooms to four plus isolation suites and doubled the surgical suites to two. The large animal area is a progressive haul-in facility with customized equipment.
Humboldt Veterinary Clinic isn't your typical small town or even big city clinic. A fish tank in the lobby, as well as snacks and other refreshments provide a distraction for clients' children. A merchandise corner was another addition.
"We wanted clients to have a great experience in addition to high level veterinary care," Cordray said. "There are other projects on the radar as well."
It's quite the leap of faith for Cordray to make in small town Humboldt. It helps that she has built a loyal client base which extends as far away as Forest City, Iowa, a good 75 minutes from Humboldt.
"We are a comprehensive veterinary clinic that offers services others may not," Cordray said. "When you believe in something you can make it happen."
Not only does Cordray believe in what she can accomplish, but she believes in her team at Humboldt Veterinary Clinic. The culture in the workplace is important to Cordray and she stresses "authenticity, comprehensive, compassion, team, and honesty."
"She strives to practice medicine and operate a business based on those values each day," wrote Dr. Tracy Lindquist ('12), one of the five veterinarians at Humboldt Veterinary Clinic. "She provides a great learning environment for veterinarians, technicians, and assistants."
One of the things Cordray wanted to do while expanding the clinic, was to provide special spaces for her employees and their families. There is a kid room with a pull-out futon, big screen TV and toys.
Music, picked by the staff, plays overhead as you tour the clinic which also includes a staff break room and a basketball hoop in the large animal area where the former Buena Vista University star can shoot some hoops.
She considers her team as family and works hard to get to know them outside of work. The clinic staff has gone on scavenger hunts, played putt putt golf and kayaked together.
"We have three or four team-building events a year that I believe helps with our cohesiveness," Cordray said. "We get to know each other outside of work.
"I'm grateful to my team – they never stand behind me but stand before me."