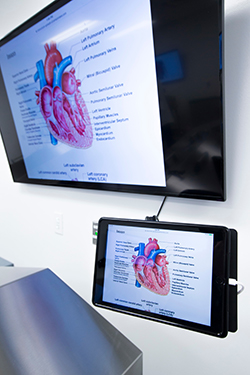 Growing the Program
Students utilizing cadavers is nothing new for the College of Veterinary Medicine. Historically, the education provided to veterinary medical students has included countless interactions with animal cadavers in the first-year anatomy class.
But human cadavers. That's something new not only in the college but also at Iowa State University.
"As far as we know, the use of human cadavers has never been done before at Iowa State," said Dr. Michael Lyons, senior lecturer in biomedical sciences. "But when we looked at the fact a majority of our students were interested in human medicine careers, we realized this is something we had to implement to continue the growth of the program."
Lyons is obviously not talking about the veterinary medicine program, but the One-Year Master's program offered in the college and the Department of Biomedical Sciences. That program is designed to meet the demands of a wide range of career pathways and make students more competitive candidates, regardless of their ultimate career interests.
This fall, the Department of Biomedical Sciences received the first year of donors – human cadavers which are part of the University of Iowa Donor Program. The result is a significantly enhanced anatomy curriculum for the 50 master's students in the program.
The students studied six separate donors – three male and three female. The donors ranged in age from 67 to 98 and each had a variety of health issues.
"What is nice about utilizing donors in our curriculum is students see aged pathology and they see first-hand what is more indicative of the aging process," Lyons said. "With the varied donors we have, the students are always seeing something different.
"Working with human donors will give our students a jumpstart on their human gross anatomy classes they will have to take later on."
There are numerous other advantages to working with human donors. Lyons says "nothing looks like it does in the book – that's the first thing students notice." The 3D models now available don't allow students to get an overall perspective of the human anatomy.
The Human Anatomy Lab is located adjacent to the DVM Anatomy Lab on the first floor of the College of Veterinary Medicine. Only students in the class are granted access to the facility and great care is maintained to respect the donors. After a year, the donors will be returned to the University of Iowa where they are cremated and the remains returned to family members.
In the meantime, the Department of Biomedical Sciences is looking for additional uses for the donors before the decommissioning ceremony. This spring, another 50 students will study the donors, but this time the students are undergraduates from the main Iowa State campus.
The junior-senior level class will be offered in both the spring and summer, primarily to students in biology, pre-med and kinesiology.
"We think the summer class offering has the potential to attract students to the college from other institutions and provide a new pool of applicants for programs offered by the college," Lyons said. "And since we are the only institution in Iowa to offer such a close link between human and animal anatomy, we feel this will also promote teaching innovation in the college."
February 2018