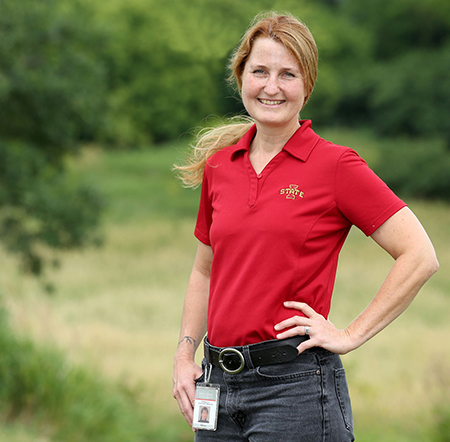 She was perfectly happy in Canada. At her alma mater, the University of Guelph, Dr. Suzanne Millman was researching, teaching and writing about animal welfare, including ethical and scientific issues.
Then she learned about a new academic position – the first of its kind – and it intrigued her.
"This was attractive to me because here was a veterinary school in the one number animal agriculture state in the U.S., that was advertising a tenure-track faculty position, specific to animal welfare," Millman said. "This was the first such position at a veterinary school in the U.S., with the full complement of research, teaching and professional practice and it intrigued me."
Even before she threw her hat in the ring, Millman knew the job's responsibilities would be a challenge.
"Whomever got the job would have to do it delicately if they were to be successful," Millman said. "What intrigued me about the job was the opportunity to help guide the animal welfare discussion."
Millman got the job, joining the Iowa State faculty in 2008. She immediately started working closely with the State of Iowa's State Veterinarian's Office, the Iowa Veterinary Medical Association, animal industries, and a diverse range of stakeholders.
"A big piece of my outreach is to be a resource to these and other groups as well as to the general public," Millman said.
Despite her determination, it wasn't easy at first. She says many groups and individuals were ready for a conversation about animal welfare. Others, not as much.
"People are increasingly interested in animals, which usually starts with their pets, and extends to curiosity about farm animals and where our food comes from," Millman said.
'This attention is a good thing, but also results in tough conversations about our social contract with animals and whether we are providing them with a good life.
"Veterinarians are often at the forefront, and I wanted to design a program to help them understand and respond constructively to societal concerns."
Her work has been influential in shaping scientific understanding of how agriculture animals express pain and distress, how we recognize these states, and the importance of finding practical, affordable, and effective ways of mitigating suffering.
She has also been instrumental in shaping agriculture animal producers' care of ill and injured animals, and the opportunities to use animal behavior for better handling, housing and animal care practices.
The author of countless peer-reviewed journal articles, Millman has delivered hundreds of presentations. She is highly sought as an animal welfare advisor by multiple national and international organizations. Her outreach programs target tools for animal welfare assessment, particularly animal-based outcomes that can be practically and reliably in field or farm environments.
These efforts and her personal dedication have won over the initial skeptics.
"I am grateful to have fantastic working relationships with many people and organizations working in this space," Millman said. "By stepping up to the plate on really tough issues affecting farmers, concerned citizens, and of course, the animals themselves, I have truly grown into this position and I continue to learn. If I'm doing my job well, I can sit down and have a cup of coffee with all parties and work with both sides on an issue.
"It's particularly refreshing to have earned the trust of veterinarians and stakeholders willing to share delicate information with the goal of improving and sustaining industry rather than just deflecting criticism."
Millman's efforts have been recently recognized. First, she was named the Scott and Nancy Armbrust Professorship in Veterinary Medicine at Iowa State. A few days later, she learned that she was the 2022 recipient of the AVMA Humane Award, given annually to a non-veterinarian to recognize achievement in advancing the welfare of animals through leadership, public service, education, research and product development, or advocacy.
Millman was quick to point out that while she is the award's recipient, she received the honor due to the efforts of numerous colleagues, students, and animal caretakers.
"They have helped me understand animal welfare and opportunities to strengthen it," she said. "Animal welfare is interdisciplinary. I knew when I took this position that it was too much for one person to do but we've been able to achieve so much because of the assistance of so many people - particular nods to Becky Parsons, who runs the animal welfare lab with me, and to my colleague Professor Anna Johnson in the Department of Animal Science whose program dovetails closely with mine."
In the end, Millman says her job ultimately comes down to making animals her top priority.
"Animals matter," Millman said. "I'm interested in animals for their own sake and acutely aware of that animals have wants and needs.
"I try to get inside an animal's mind to make sure we are giving them a life worth living."
September 2022