A fan of Animal Planet while growing up in Southern California, Amber Illescas dreamed of becoming a veterinarian. What she didn't predict is that someday she'd find herself in America's heartland.
"It took some adjusting," Amber admits. "I didn't know anyone, and it was hard to get the hang of things."
Amber, a third-year veterinary medicine student, had never traveled. Attending college far from home wasn't on her radar. That, and money was tight.
"Both my parents are immigrants, and they worked hard to raise me," Amber says. "They encouraged me to continue my education, but I didn't want to ask them for help."
Amber attended community college and learned about Iowa State from a friend. She was "beyond ecstatic" when she received the Frederick Douglass Patterson Diversity and Inclusion Scholarship, which put Iowa State within her reach.
Ensuring access to an Iowa State education for all deserving students – through scholarships, fellowships and other support – was a key priority of the Forever True, For Iowa State campaign. In addition to the new Patterson Scholarship, more than $500 million was raised to help more students like Amber pursue their dreams and graduate less burdened by debt.
For Amber, the scholarship has a deeper meaning. "It makes me feel like I belong here … you wanted me here at Iowa State."
When she graduates, Amber would like to specialize in surgery while maintaining the social and patient relationships of general practice.
And her adjustment to Iowa?
Despite the pipes in her mobile home freezing one winter, she says "Iowa's a pretty good place to be."
February 2022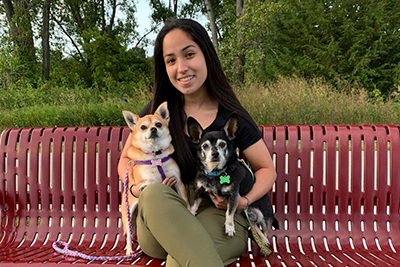 The scholarship makes me feel like I belong here – even coming from Southern California, you wanted me here at Iowa State."
– Amber Illescas, recipient of the Frederick Douglass Patterson Scholarship
---

The Frederick Douglass Patterson Scholarship, awarded to incoming veterinary students, honors its namesake, a 1923 Iowa State DVM graduate who served as president of the Tuskegee Institute and is the founder of the United Negro College Fund. The fund was established during the Forever True campaign, which raised more than $1.5 billion, a third of that going to broaden access to Iowa State for all students.