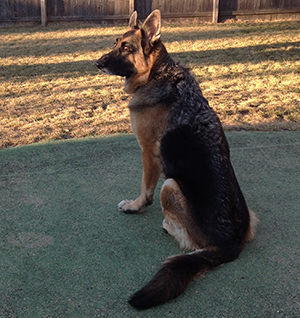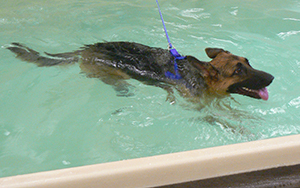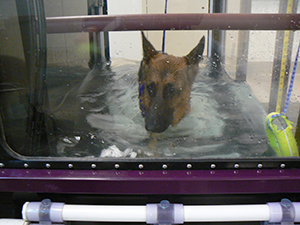 Two sisters who are passionate about their German Shepherd Dogs have given back to their beloved animals. In their lifetime, they have shown dogs in obedience as well as in confirmation at dog shows. They have loved these seven dogs and given them a life of compassion and care.  In return, they have received unconditional love and much joy.
 
Throughout the lifetime of their dogs, the sisters brought them to the Hixson-Lied Small Animal Hospital for care. "The faculty and staff at the hospital were especially helpful and knowledgeable. They were respectful of us and our dogs, and it's obvious they are committed to their profession."
 
They appreciated the continuous care of one of their dogs, Dasani, received when treated by the faculty and staff in the dermatology service and canine rehabilitation facility. This care helped to enhance her quality of life. As a result, they have chosen to create an endowment for the Small Animal Dermatology program, with some funds also supporting the canine rehabilitation.
 
The endowment, German Shepherd Dog Memorial Fund for Support of Small Animal Dermatology, was created with cash giving and was also backed with their estate plans. (Endowments are designed to last into perpetuity, with annual distributions used to provide support for the area(s) identified in the funds terms.)
Since both sisters have doctorate degrees and believe in advanced training and education, the endowment funds will be used to provide support for resident training in small animal dermatology.
 
"It came to us that every time we lose a dog they take a piece of our hearts with them, and every new dog who comes into our lives gifts us with a piece of their heart. If we live long enough all the components of our hearts will be dog, and we will become as generous, and loving as they are."* Hopefully this loving gift of a perpetual endowment will provide many animals specialized care through the additional training and education of a licensed veterinarian to become a board-certified dermatologist.
"We are deeply appreciative of the support of the college's development director Trent Wellman who helped us through this process," said the sisters.
"In this case the best gifting avenue was to create their own endowment, however, anyone can support an existing endowment, or give funds for a specific purpose," said Wellman.  
Upon learning about their intentions, Dr. Jim Noxon, Dr. Darren Berger, and Joanna Hildreth were extremely grateful and humbled that their everyday work would substantiate such generosity.
Dr. Jim Noxon, Morrill professor, Veterinary Clinical Sciences, Dermatology Service; Dr. Darren Berger, assistant professor, Veterinary Clinical Sciences, Dermatology Service; Joanna Hildreth, Canine Rehab specialist
Gifting Opportunities
For more information about gifting opportunities, please contact the CVM Development Office at: 515-294-0867.

* Modified quote, Unknown Author 909