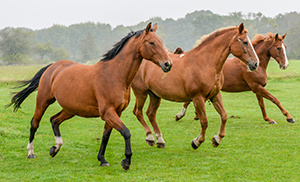 Dr. Lawrence L. Kramer (1933-2007) wanted to leave a lasting gift to benefit veterinary students and faculty at Iowa State's College of Veterinary Medicine. Known among his colleagues for his passion for teaching and his drive to keep equine surgery on the leading edge, Dr. Kramer wanted his gift to reflect those values.
In 1996 he established an endowment, through a provision in his estate, to fund a lecture at his alma mater, Iowa State. The Kramer-Marks Fund, created in his name and his mother's maiden name, brings accomplished leaders in the field of equine surgery to the college to share their work and experiences. The first lecture was held in the fall of 2012, and this year marked the lecture's fifth anniversary.
As was the case during previous Kramer-Marks lectures, this year's lecturer, Dr. Earl Gaughan (UGA DVM), board-certified equine surgeon, spoke to a standing-room only crowd of veterinary students, faculty, and staff. Guests included Dr. Paul Eness, a former classmate of Dr. Kramer's, CVM dean emeritus Dr. John U. Thomson, Dr. John Terry and other local practitioners, as well as interim dean Dr. Pat Halbur.
"Dr. Gaughan's presentation was a good reminder to keep an open mind in veterinary school, as well as when we get out into practice," said Abbey Smith, third-year veterinary student at Iowa State. "His presentation showed that everyone's career path is different, and that each decision you make has to be what is right for you. He used his life story to give us great advice for our future careers. I thoroughly enjoyed Dr. Gaughan's presentation. It was an inspirational boost before finals."
The Kramer-Marks lectures are unique in that they attract veterinary students and faculty across the different specialty areas and fields at the college.
"This fund allows us to bring in experts and specialists from many different backgrounds and locations," said Dr. Stephanie Caston, associate professor of equine surgery at the college. "These speakers benefit the college and the Iowa veterinary community by exposing us to diverse perspectives and providing informative, entertaining lectures. It also gives us the opportunity to host veterinarians that might not otherwise visit Iowa State, and provide them with a glimpse of our program and facilities. It's a fantastic educational and networking opportunity in both directions and we are so grateful that Dr. Kramer provided such a thoughtful and enduring gift."
About Dr. Lawrence L. Kramer
Dr. Kramer was a 1963 graduate of the Iowa State University College of Veterinary Medicine. In 1965, he completed an internship at Cornell University and in 1972 he earned diplomate status from the American College of Veterinary Surgeons. During his career, he was a private practitioner and served on the faculty at Cornell University, Iowa State University, the University of California-Davis, and the University of Saskatchewan. When he retired from teaching, he moved to his farm in Cortland, New York, and worked for the New York State Racing Authority for 20 years. He also bred and showed Belgian draft horses, and had a great interest in Standardbreds.