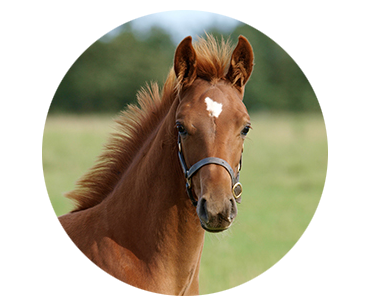 "Whenever I go out on a call, I'm think about helping the animal, but I've really come to appreciate that veterinarians also help out people as well."

–Kara Frerichs, DVM '17
Gift Establishes New Position
Riding by the age of 5, Kara Frerichs has always been involved with horses.
As a youngster, Frerichs joined the Saddle Cub and participated in rodeo.
"I've been around horses a long time," she said. "I don't remember a time in my life when horses weren't my world."
That continues to this day. After graduating from the College of Veterinary Medicine in 2017 with a focus on equine medicine, Frerichs completed an internship at Nebraska Equine in Omaha.
She returned to Ames and currently owns a mobile equine practice and has filled in at the Large Animal Hospital in the Lloyd Veterinary Medical Center from time to time. Then a half-time position opened up in equine practice in the college and Frerichs jumped at the opportunity.
"Being a solo practitioner it's nice to be back in the college to run cases by other veterinarians," Frerichs said. "The position has been a good opportunity to grow my skills as I evolve as a veterinarian."
The half-time position was made possible through a donation from Bob and Deb Pulver of West Des Moines. The Pulvers are clients of the Lloyd Veterinary Medical Center.
Grateful Client Issue Date: