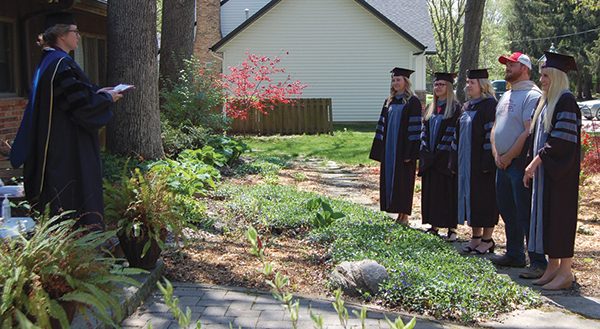 Of all the duties Dr. Amanda Fales-Williams would have as president of the Iowa Veterinary Medical Association, there was one that she looked forward to the most. It was administering the Veterinarian's Oath to the Class of 2020 at the College of Veterinary Medicine.
Midway through her rather normal year as president, a global human health pandemic struck, and everything became anything but normal.
In mid-March, as the College of Veterinary Medicine went to online instruction, Fales-Williams and her colleagues rushed to create content for virtual delivery. As Fales-Williams figured out ways to teach veterinary pathology to her students, it became apparent that things were going to change in many ways, quickly. Adjustments to schedules, campus life, and most importantly, a move to cancel the in-person graduation ceremony and go to a virtual ceremony.
"I was gutted for the class who had such an unusual end to their four years of veterinary education," said Fales-Williams, professor and chair of the Department of Veterinary Pathology and holder of the Tyrone D Artz, M.C. Chair for Teaching Excellence.
"What I remember most from my own graduation 25 years ago was taking the Oath. It's an important, timeless, genuine statement of what veterinarians do every single day."
To provide the students with the best send-off that she could, Fales-Williams offered to give the Oath individually to students.
As creative as the idea was, so were the settings for the Oath. "In-person settings included my front yard, graduates' yards at Old Orchard Trailer Park, a graduate's dining room right after the graduation ceremony video aired, and the Gentle Doctor Plaza," Fales-Williams said. In late May, she led the recitation via Zoom for graduates in Nevada, Texas, Indiana, and a hospital room. By the end of May, she led a total of 32 Oaths.
Although leading the Oath for those students helped to partially fill the void, nothing compares to an in-person recitation. "What I love about the Oath during the ceremony is the chance to hear the blend of the soon-to-be doctors' voices," Fales-Williams said. "It's so gratifying to see the graduates experience the ceremony that they had dreamed of for many years."
But even if an in-person ceremony was held, Fales-Williams would still have offered do the Oath in person for anyone that wanted to include family members who couldn't travel, or those that just wanted to recite the Oath again. That offer still stands, in perpetuity, for anyone wishing to recite the Oath again.
September 2020