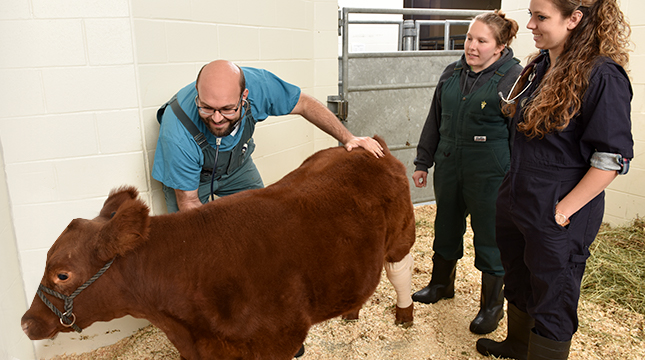 Best in the Nation
Students wishing to get the very best experience in large animal veterinary medicine should look no further than Iowa State University's College of Veterinary Medicine.
"I truly believe Iowa State is the nation's leader in producing food animal veterinarians," said Dr. Pat Halbur, the Dr. Stephen G. Juelsgaard Interim Dean of Veterinary Medicine. "Iowa has a very diverse, $32.5 billion animal agriculture industry. The College of Veterinary Medicine has created a teaching program that builds a strong base of knowledge in our classrooms and labs and emphasizes hands-on experiences in our hospital and in the most progressive livestock and poultry production systems to have students practice ready on day one."
Halbur's contention is boasted by a number of facts including:
Iowa State ranks first in the nation amongst veterinary teaching hospitals in food animal patient count according to the most recent numbers reported by the AAVMC.
The College of Veterinary Medicine receives more USDA funding than any other veterinary college.
The percentage of fourth year Iowa State veterinary students choosing either a food animal or mixed animal track is almost two-thirds of the total student enrollment and continues to climb.
The increase in overall food animal case load started in 2010 when the college's Veterinary Field Services Unit was re-established. At the same time, the Food Animal and Camelid Hospital within the Lloyd Veterinary Medical Center began offering additional services including more extensive diagnostics and more extensive treatment options for patients.
The highest percentage of animals seen at the Lloyd Veterinary Medical Center are beef cattle, although all species have made their way to the hospital including sheep, show pigs, llamas, alpacas, goats, fawns and reindeer – virtually every animal imaginable.
"With the changing landscape of animal agriculture today, livestock owners may have emotional and social factors that are involved in their decision making," said Dr. Jennifer Schleining, the Scott and Nancy Armbrust Professorship in Veterinary Medicine. "It's not strictly an economically driven issue for people to seek medical care for their farm animals anymore."
A majority of the caseload comes from Iowa farms but Schleining says the hospital frequently receives cases from Minnesota, South Dakota, Nebraska and other surrounding states. Phone calls and emails seeking medical advice come from veterinarians and clients from across the country.
"We're seeing a lot more referrals from veterinarians," she said. "They are more aware of our services and I believe that will continue to increase."
That's a huge benefit to Iowa State veterinary students. All fourth-year students are required to take a food animal medicine and surgery clinical rotation and the increased case load means more experiences and opportunities for them.

"The more exposure the students get to cases the better veterinarians they will become," Schleining said. "The procedures they perform while on their fourth-year rotations are the same type of procedures they will be doing after they graduate."
And for those students who want a more varied or specialized food animal experience, the college is affiliated with other large animal facilities away from the college campus. These include:
Swine Medicine Education Center in Audubon, Iowa. Students can take a variety of clinical rotations at SMEC where they gain valuable information about the swine industry, develop and practice clinical and production management skills, experience swine veterinary practice and further develop communications skills
Great Plains Veterinary Educational Center in Clay Center, Neb. Iowa State veterinary students participate in week-long rotations at the GPVEC primarily in food animal health and production management of beef cattle. "Great Plains was a real bonus for me since I was trying to get as much experience as I could with a lot of repetition," said Tyler Baumann, a 2016 DVM graduate. "There are so many cattle out there that it's hard not to get a good, hands-on experience."
Iowa State Dairy Barn in Ames. This facility milks approximately 400 cows, but also raises their own replacement animals from birth to the first lactation. Veterinary students can take an elective ambulatory rotation that offers them hands-on experience where they evaluate, diagnose and prescribe treatment on the working dairy farm. "This was a great experience for me because the ISU Dairy Farm could be any farmer's dairy operation that I will end up working with after I graduate," said Addie Felton, a 2016 graduate.
Swine, Beef, Dairy and Small Ruminant Production rotations that focus on solving real-world problems on the most progressive private farms in the region.
An embryo transfer rotation using university or client animals where students become proficient in bovine embryo transfer and related advanced reproductive techniques.
Preceptorships in the private sector organized and monitored by species focused faculty to assure students get desired hands-on experiences.
June 2017