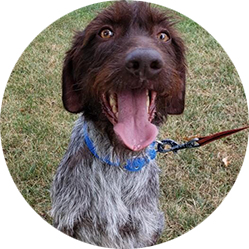 A Joint Effort
By the time Crush, a five-year-old German wire-haired pointer, had arrived at the Lloyd Veterinary Medical Center he had already beaten the odds. The initial veterinarians who treated the dog were unsure if he would survive the initial night after he was in a devastating car crash.
"Crush had several signs of trauma," said Dr. Brian Petrovsky, surgical resident. "When he arrived in the ICU, he had an irregular cardiac rhythm which was being controlled. He was bleeding which was being controlled with blood transfusions, and his hip had luxated."
Crush underwent successful surgery but his road to recovery was long, which was made tougher because his family couldn't visit him since they lived a distance from Ames.
Learn more about Crush's road to recovery, the family who are grateful he has made a full recovery, and the Iowa State veterinary team that made that recovery possible.
Grateful Client Issue Date: