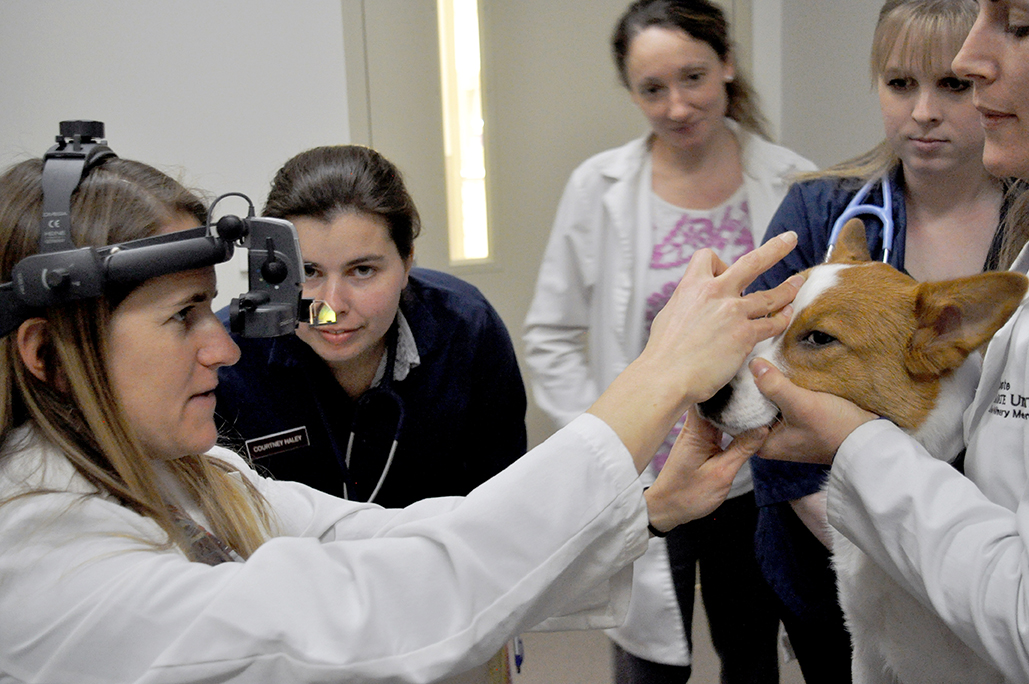 Day 1: Monday, February 12

By now it's old hat for these five 4th-year students in the College of Veterinary Medicine. They are well into their final year of veterinary school when they do two-week rotations in specialty areas, primarily in the Lloyd Veterinary Medical Center.

But today is a little bit different. It's another first day of school for the five as they begin their ophthalmology rotation where they will spend the next 14 days looking at the eyes of dogs, cats and horses.

First though, the students meet the ophthalmology team that will lead their studies. Dr. Rachel Allbaugh, associate professor of veterinary clinical sciences, introduces herself, the team's residents and briefly describes what the next two weeks will focus on.
The five students – Brad Christensen, Kaiti Grief, Courtney Haley, Jordan Moline and Wendy Thill – will see small animal patients Monday, Wednesday and Friday, with equine cases on Tuesday and Thursday afternoons. Emergency patients are seen 24/7.
After Allbaugh departs the rounds room – a central place where the ophthalmology students will gather when they aren't seeing a patient – Chelsey Carroll, one of the team's veterinary technicians, tells the students what to expect over the next two weeks and gives a brief tour of the exam rooms.
She even brings her own dog in for students to perform basic procedures on before the patients start coming in at 10 a.m.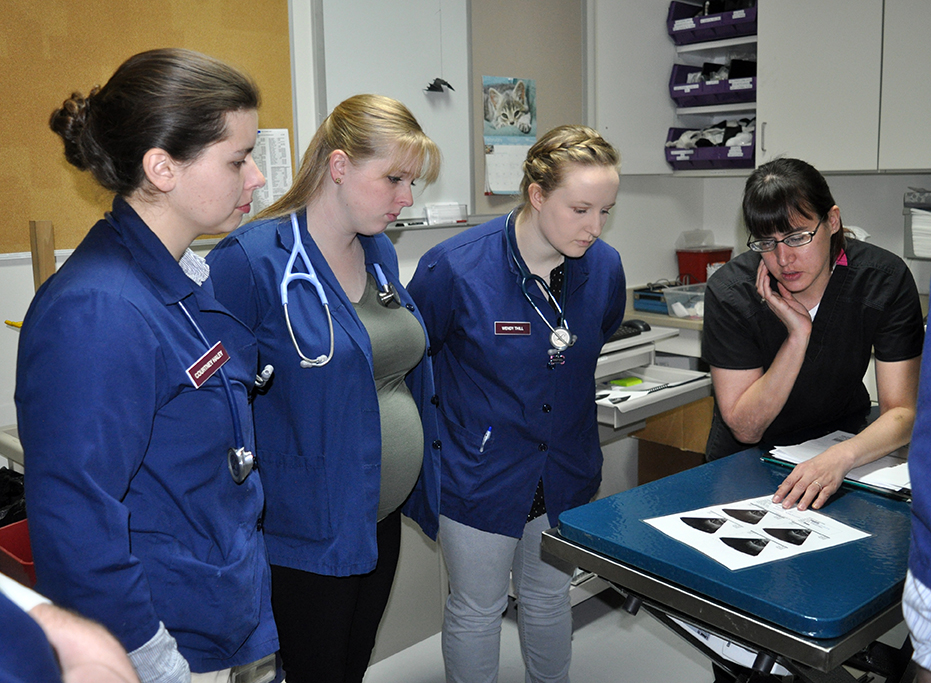 The orientation and reintroduction to ophthalmology is important because the students just came off another two-week rotation in an unrelated area.
"You look at your notes, but you don't really know what to expect until you get there," said Thill.
One of the first things Carroll says is not to plan their day around the posted schedule.
"Things change quickly around here – it seems like every ten minutes or so," she says.
It didn't take long for the schedule to change on Monday. An appointment cancelled, another one was late and by noon, the first emergency case came in. Buddy, an 8-month-old dog, had been scratched in the left eye by a cat.

Buddy was OK, but things got so hectic that the ophthalmology residents have to remind the students to grab something quick to eat.

By the end of the day a dozen patients had been seen.
"Today was pretty similar to first day of my other rotations," Moline said. "It takes a few days to get into the swing of things."
Tomorrow: A Day in Surgery