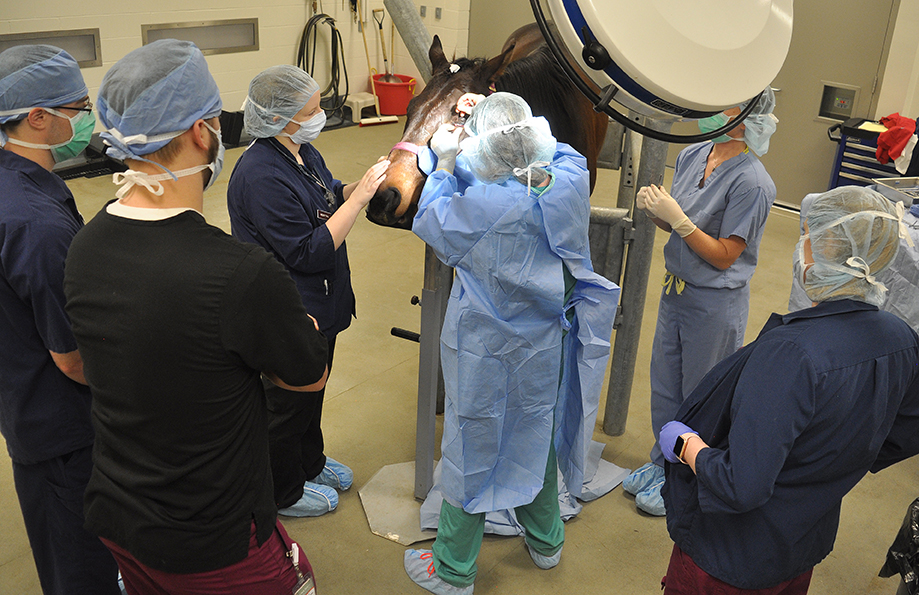 After days of seeing small animal patients, the five fourth-year students in the ophthalmology rotation went big – really big.
Tuesday and Thursday afternoons are dedicated to equine cases. Tuesday was light on appointments but Thursday was full including a major eye surgery on a horse. Ophthalmology resident Dr. Rita Wehrman removed the left eye of a horse with the assistance of fourth-year student Courtney Haley. The other four students on the rotation were in close proximity observing the unique surgery.
The rest of the afternoon was spent on exams on a pair of horses in for rechecks. Working with horses are different than dogs, cats or even rabbits. There is the obvious size of the animals but according to Dr. Rachel Allbaugh, associate professor of veterinary clinical sciences, there are other differences as well.
"A horse typically doesn't have the patience that a dog or cat will for an exam," she said. "So, we adjust how we do the exams."
The fourth-year student still meets with the client and goes over the patient's history prior to the exam. But where the student, then the resident and finally the attending veterinarian will each do an exam on a dog or cat, only one exam is done on a horse.
And that's not the only difference. Fourth-year student Kaiti Grief says a veterinarian must interact with animals different depending on their size.

"I had a vet once tell me, 'you have to count an animal's weapons,'" she said, "and a horse has a lot more weapons than a dog or cat does.
"You have to know how to read a horse. They can be very weary of you and are always aware of where you are."
Tomorrow: Client Communication