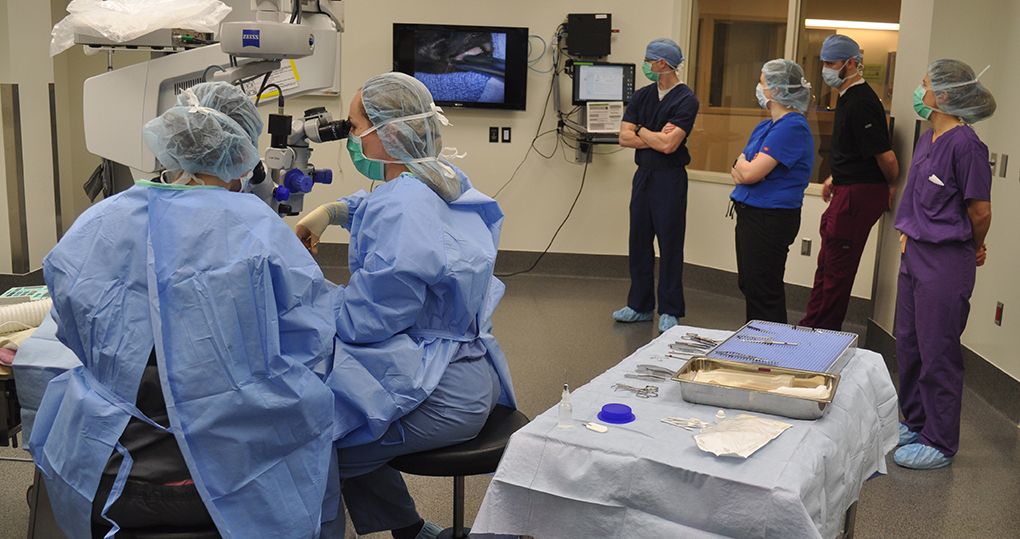 Day 2: Tuesday, February 13
The call came at 6:30 a.m. Thirty minutes later Brad Christensen's day on the ophthalmology rotation had begun.
Two dogs, injured in separate incidents, had arrived at the Hixson-Lied Small Animal Hospital suffering from similar eye injuries.
"This is the first time I have gotten called in that early to see a patient," Christensen, a fourth-year small animal track student, said. "I had prepped for what my day was supposed to be – a trip to IVS (Iowa Veterinary Specialties) to see patients."
Dr. Rachel Allbaugh, associate professor of veterinary clinical sciences, took a look at her student and said, "that's what is so great about ophthalmology. It forces you to be flexible."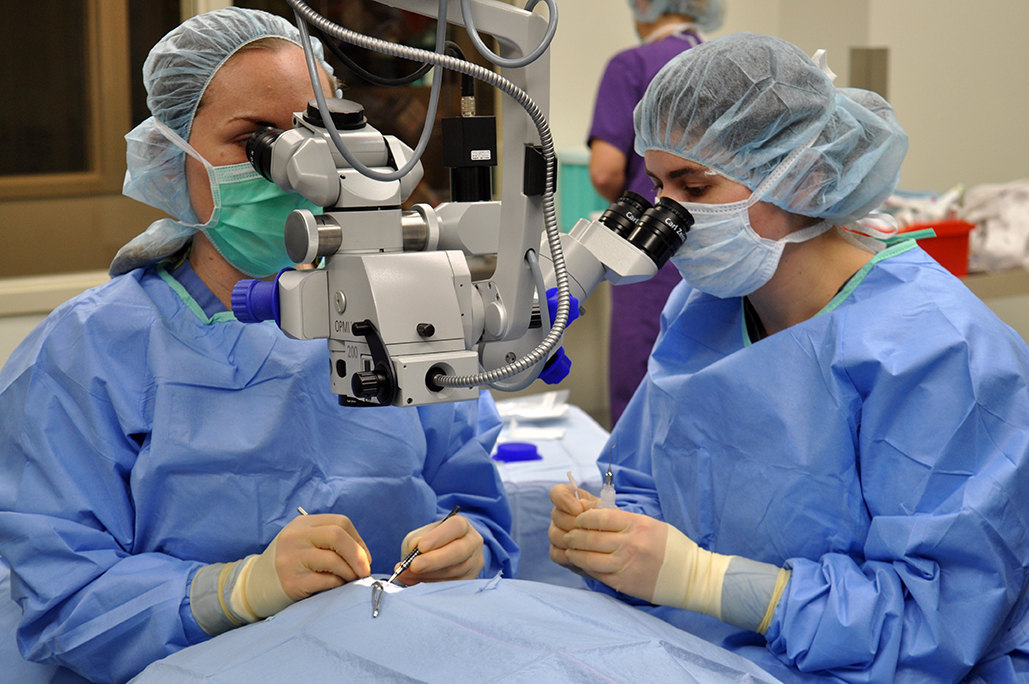 Tuesday required the five ophthalmology students to be just that – flexible. Christensen planned trip to Des Moines' IVS clinic was cancelled, opening up a slot for his fellow student Kaiti Grief to go instead. The two early emergencies and an unscheduled recheck for a patient in to see another specialty area caused Allbaugh to quickly readjust the day's schedule.
"Fortunately we have a big enough staff to be able to do that," she said.
A scheduled morning keratectomy surgery on a cat was also delayed a few minutes. Fourth-year student Courtney Haley assisted resident Dr. Braidee Foote on the delicate surgery while the other rotation students looked on through a close-circuit monitor.
"It was a pretty cool surgery to see up close," Haley said. "I've never seen an eye surgery before and this takes a lot of fine motor skills to do that on this scale."
The students observing the surgery were also impressed.
"It's amazing what our surgeons can do and the level of expertise it takes to do that," Christensen said.
The delay in the start of the surgery only allowed some of the students minutes to quickly grab something to eat before heading to their afternoon appointment – staffing two ophthalmology labs for second-year veterinary students.
The fourth-year students walked around the lab, assisting the younger students, answering any questions they had. The experience brought back memories for Christensen.
"When I was a second-year student, I thought the fourth years knew everything," he said. "But now as a fourth-year, I realize that this is a constant learning process."
Tomorrow: Back on Clinics