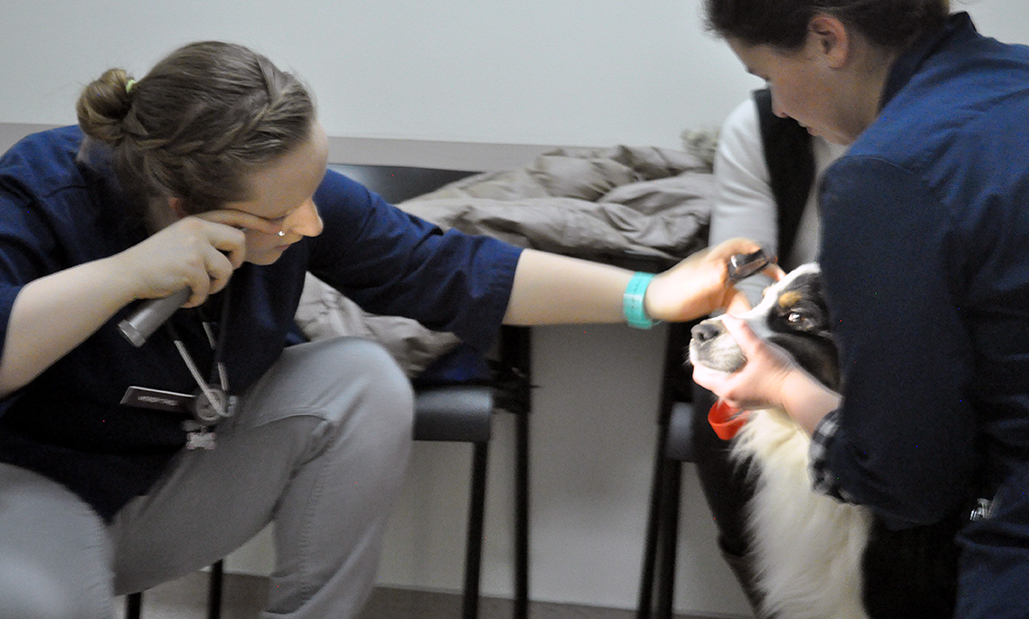 The difference is apparent at the beginning of every appointment one of the five fourth-year veterinary medicine students takes in their ophthalmology rotation.
After nearly two weeks of working solely with ophthalmology patients, the five are becoming more and more confident with their abilities. And that confidence is growing with each patient they see.
"I'm definitely more comfortable in dealing with patients," said Brad Christensen, one of the fourth-year students. "You get to observe the various treatment procedures the clinicians prescribe and it starts to make sense."
Christensen said he was a little anxious the first day of the rotation.
"It has been a while since I had done an ophthalmology exam," he said, "but it's a lot easier now after I have been doing the same initial exam for several days."
Compared to Wednesday, Thursday's ophthalmology schedule was rather light. The morning was dominated with a surgical procedure while winter weather forced cancellation of all but two afternoon appointments.
Fourth-year student Wendy Thill met with one of those afternoon appointments. She had previously seen Casey, a two-year Australian Shepherd, last Friday when the dog came in on an emergency.
"It was nice to have a baseline on this recheck to compare with what I saw last week," she said. "On other rechecks we don't have a baseline unless we have photos in the file."
Tomorrow: Nearing the End