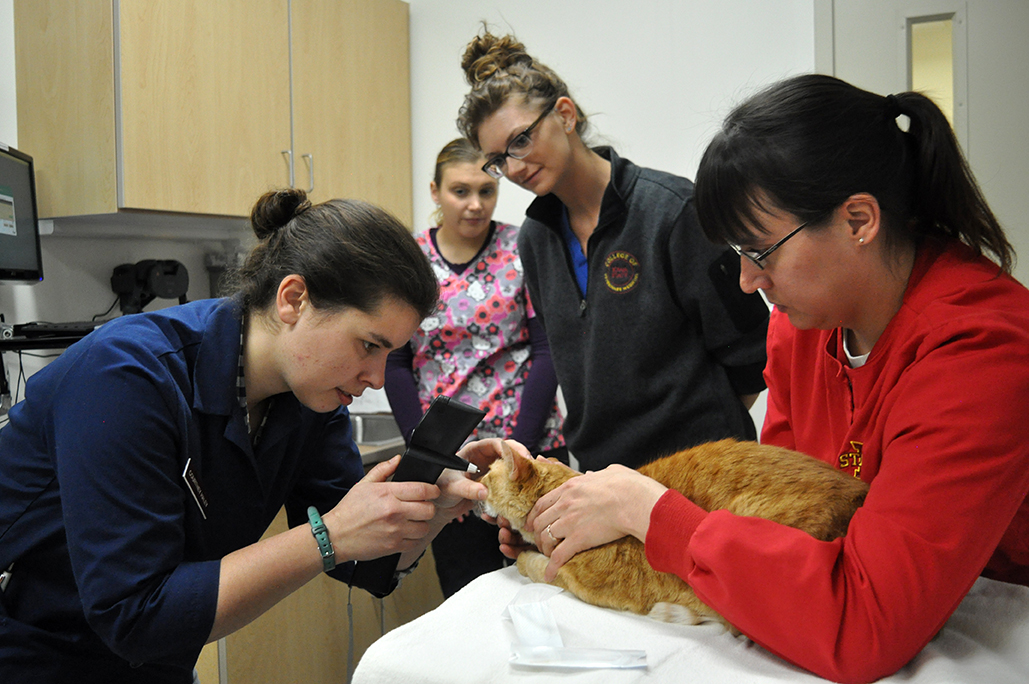 The ophthalmology five begin their day in the rounds room.

Wednesday was no exception as the fourth-year Iowa State veterinary students gathered before the patients started rolling in.
Ophthalmology resident Dr. Rita Wehrman led the students in a discussion on dry eye, including its causes and potential treatments. Throughout rounds, Wehrman engages the students with references back to cases they had seen previously in the week.
Soon, however, reality hits with another 11 cases scheduled to be seen throughout the day. That's not counting the variety of emergency cases that walk through Hixson-Lied Small Animal Hospital's doors.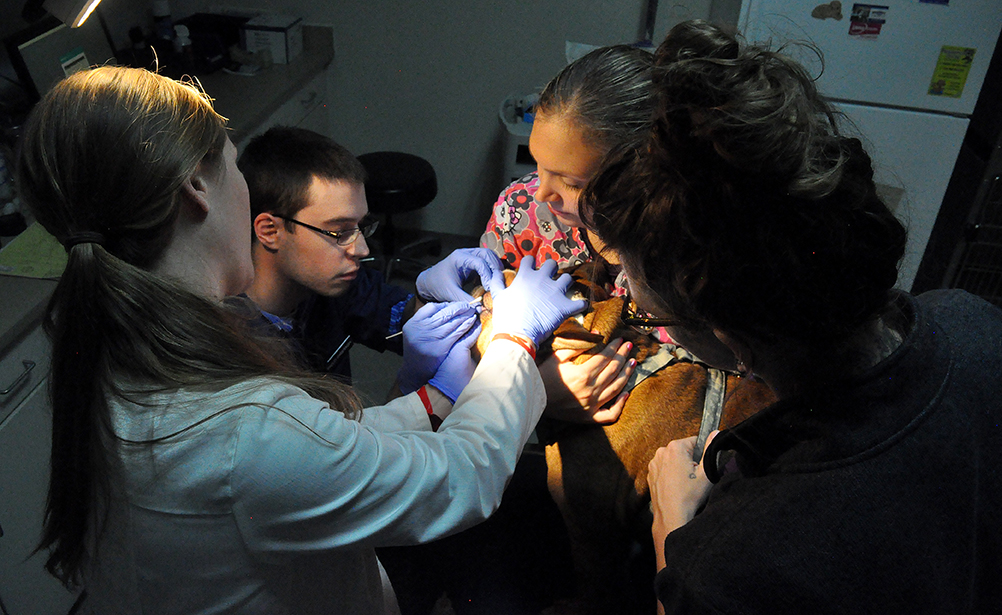 On each scheduled case, the student meets with the client and patient and conducts a first exam. They then discuss their findings with the attending resident, who then performs a second exam on the patient.
The resident and student discuss treatment options before consulting with the attending veterinarian. This week it's Dr. Rachel Allbaugh, associate professor of veterinary clinical sciences. The exam concludes when Allbaugh meets again with the client, exams the patient herself before the team relays the prognosis and suggestions treatments.
On Wednesday, the fourth-year students were joined by a pair of third-year veterinary students who were shadowing the rotation in order to determine what rotations they want to sign up for in their final year.
Kaitlyn Poirier and Ashley Jenson said the two hours they spent in ophthalmology on
Wednesday gave them a first-hand look at what to expect. Ophthalmology was one of eight different specialty areas they will visit in the next few days. 
"It is nice to interact with the fourth years to see what a rotation is really like," Poirier said.

One of the ophthalmology five – Courtney Haley – said she tried to give the students an idea of what they should prepare for.
"Last year it was helpful to me just to figure out where everything was in the hospital," she said.
Tomorrow - Horsing Around